7 December 2018
Christmas Craft Fairs in Palermo
It's Christmas time! Vintage and creativity are coming in Palermo
Also this year Palermo is preparing to set up Christmas fairs in various parts of the city. Palermo knows how to distingush itself: usually, exhibitors and visitors show their interest  especially in crafts fairs and vintage second-hand markets. In Palermo, the keyword is creativity. However, Palermo will organize also country festivals, Christmas markets and the most traditional Nativity Scenes, as in any other place in Sicily: for example, we have alredy mentioned the Magic Nativity Scenes in Castelmola.
But if you plan to visit Palermo and western Sicily during your Christmas holidays, you could go to one of the colorful craft fairs they are organizing. If you are curious to discover the artistic side of people from Palermo, this chance would be perfect for you.
Cittadella dell'artigianato in Magliocco Street
Piazza Teatro Massimo is one of the main symbol of Palermo. Near this famous square, Palermo is hosting the seventh edition of a great Chrstimast Craft Fair, the Cittadella dell'artigianato. The fair is opening from 6th December 2018 to 6th January 2019. The event is free of charge and it is open to the public from 10:00 am to 20:00 pm. During public holidays the fair closes at Midnight.
Magliocco Street is decorated with 30 stands. There, you can buy records, bags, vintage clothing, fabrics, necklaces and bracelets, old toys, belts, vases, ceramics, frames, paintings. Of course, there is also music and lights! There is nothing missing and you can watch the craftsmen at work. The fair is hosting also food and wine experts and there are gazebos dedicated entirely to culinary products: from typical Christmas sweets such as handmade panettone, to Palermo street food and the irreplaceable panelle; moreover, you find meats, cheese, marinated products in oil and dried fruit.
The association  Confartigianato Sicilia is organizing this event also this year. The artistic director Costantino Sparacio shows a great enthusiasm about the fair and declares: "Thanks to a protocol with the Municipality of Palermo we can once again take advantage of the Via Magliocco for our Christmas fair. A strategic road, crowded with tourists and citizens especially in December. This allows us to introduce our craftsmen to the city, but on the other hand it is our craftsmen who offer visitors the opportunity to buy unique and special items for their Christmas gifts. It will be for us the seventh edition at provincial level but the second one at regional level".
Thanks to the collaboration with the City of Palermo, Confartigianato Sicilia is giving tourists and visitors unique moments to spend with family or friends, buying Christmas gifts and tasting local products in a magical Palermo, completely decorated for the occasion.
ArtisticaMente: the Christmas Fair at Grand Hotel Wagner
ArtisticaMente is another Christmas Craft Fair taking place in Palermo. The luxurious 5-star Grand Hotel Wagner in Palermo is making an entire floor available for the preparation of this fair. The fair will open on 15th and 16th December 2018, from 10:00 am to 20:00 pm. The entrance is free.
The hotel is located nearby Via Principe di Belmonte, Via Maqueda and Via Ruggero Settimo, the main shopping streets of Palermo, known for its many shops, bars and restaurants, place of main entertainment for people from Palermo in the afternoon and evening. There will be more than 40 Sicilian craftsmen in the magnificent rococo rooms of the Grand Hotel Wagner. There will be a great craft fair and second-hand market, where you can buy bags, shoes, vinyl, candles, Christmas decorations and much more. It is a mix between baroque and vintage you really cannot miss!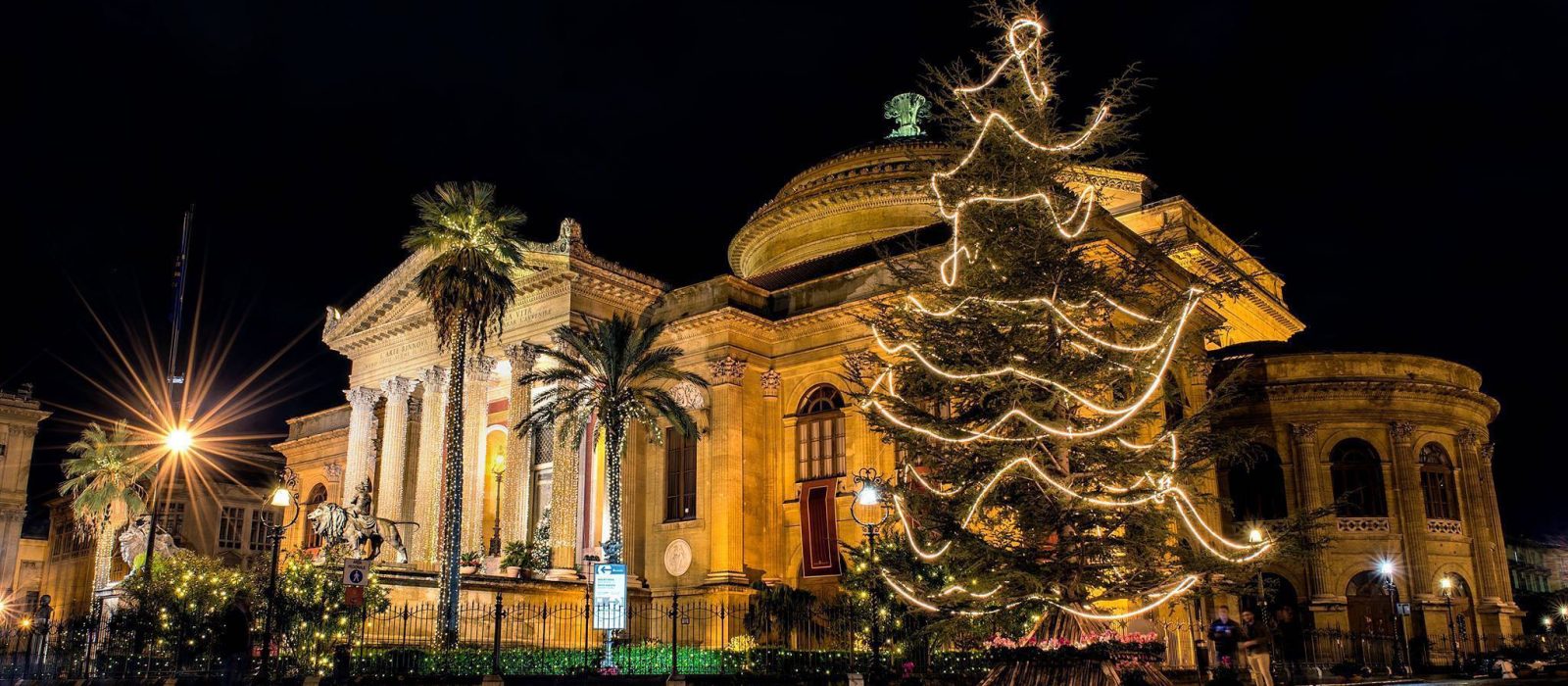 If you want to join the craft fairs of Palermo, but you don't know how to reach them, you could choose a transfer service.
We Sicilian are very proud of our land. Also for this reason, Palermo is one of the principal stages of our cultural excursions. We have dedicated more than one excursion to this amazing city: Palermo and Cefalù and Palermo and Monreale.
If you are in Sicily, you should visit Palermo. It is a baroque city, all to be discovered. It is an explosion of colors and flavors that can fascinate anyone who sees it.
December is the most magical month of the year and Palermo has that extra charm, thanks to the fairs that turn the city into a Christmas village.